Your Gas Connection Guide When Building
a New Home
Building the home of your dreams is a truly unique opportunity, which gives you total freedom to create a home suited to your lifestyle and aesthetic preferences.
Want to build a house with curved walls? Go ahead. Or a house shaped like a guitar? Go for your life. Or a house that's basically one giant cat playground? Knock yourself out.
Of course, designing and building a home can be a big undertaking, which requires ample thinking, planning and decision-making. There's a lot to consider, such as location, picking your architect and builder, then working with them to turn your dreams into a reality.
Keep reading to learn more about how to set up your gas connection when building a new home, and why gas appliances are a great addition to any renovation.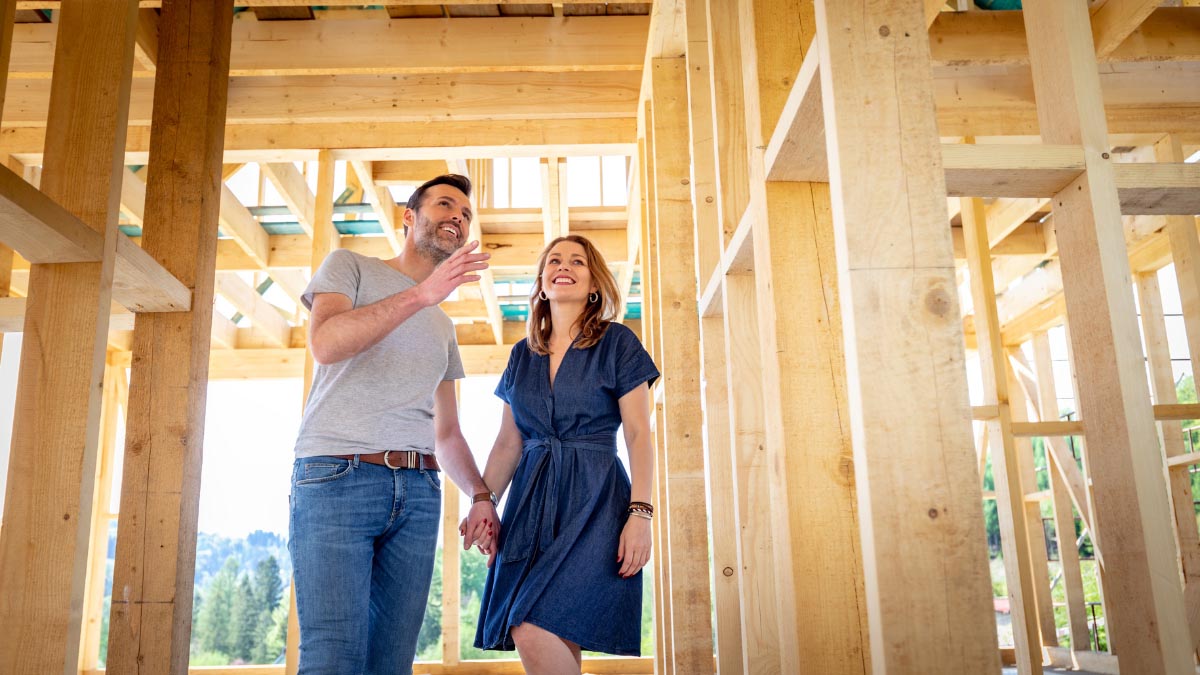 Step 1. Check if gas is available in your area
The first step is to check whether gas is available at your location. You can do this either by searching for your address using the simple tool on our Multinet homepage, or by calling the New Connections Line on 1300 887 501.
Step 2. Consider what gas appliances you want in your home
Assuming your future home has access to gas, take a moment to think about which gas appliances you want in your home.
Although it might seem premature, it's helpful to have a decent idea about this straight off the bat, not only to help you in the design and construction phases, but also to help us install the correct connection. For example, planning for gas from the get-go could help you avoid things like having to pay for a gas meter upgrade.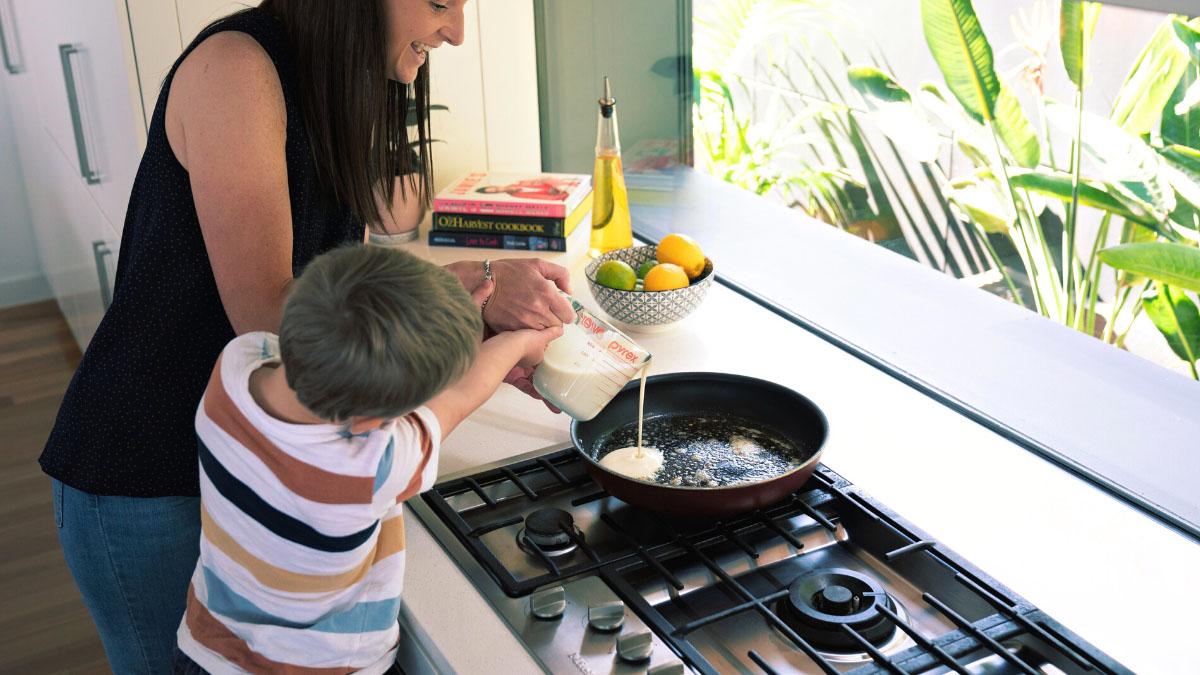 As you research natural gas appliances, you'll likely find that they're the preferred choice for millions of fellow Australians because of the numerous benefits they offer, such as performance, affordability and overall effectiveness in providing your home with heating, hot water, cooking and more.
Upright gas stove and hotplates that deliver superior performance and complete control, and natural gas hot water systems that provide an instant and endless supply of hot water while lowering your household running costs are just two of the many reasons to choose natural gas.
Step 3. Speak to your builder or developer about getting connected to gas
Next, speak to your builder or developer about connecting to gas. They'll set about lodging a new connection request.
For new homes in Victoria, your builder will contact your chosen gas energy retailer, the companies that provide gas to your home and send bills for your usage (i.e. AGL Energy, Energy Australia, Origin Energy etc.), and likely advise them which gas appliances you plan to install so we can give you the correct service connection.
Ask your builder if they will submit the new gas connection request, or if you need to do this. Doing this at the beginning of the building process (at 'land' or 'slab' stage) avoids running into problems if the property is then bricked or roofed, or is at 'lockup' stage.
Also, if the property is on a main road with high traffic, make sure to lodge the request even sooner as this might require extra traffic control or permits.
And finally, make sure your address details are as accurate as possible to avoid any contractor delays. If you're unsure at all, consider consulting government land maps or requesting a Certificate of Title for the property.
Step 4. Let us work with your chosen gas retailer to install your service line
Your chosen gas retailer will now review your gas connection request, before submitting it to us, so we can prepare your "gas service line" - the connection from the gas mains in your street to the gas meter on your property.
When we receive this request, we'll do a further evaluation and then schedule installation of the service line. Your builder will be advised of timings and if there are any costs for the installation.
If there are no costs, the connection can generally be completed within 20 business days, but may take longer depending on site readiness and weather conditions.
If there is a charge, your builder or developer will be notified. Any costs must be agreed and paid before work on the inlet begins.
Step 5. Ensure your site is clear for the gas inlet installation
To keep things on track, your builder should make sure the site conditions meet the distributor's requirements. This includes:
Clearing the site of rubbish and debris
Removing any obstructions
Clearing access to the meter box (if relevant)
Unlocking the gates
Clearly labelling the site with the correct address
Arranging to have the old gas line and meter removed (if applicable – this should be done before you request the connection)
Inadequate site conditions can delay the installation, and therefore delay the process as a whole. Check out our builders pack for more info about how to ready the site, and required clearances.
When the site is ready, a service line installer will attend to lay a gas service line at the scheduled time.
Step 6. Choose your gas meter position
While building your home, keep in mind a suitable location for the gas meter.
Your gas retailer will arrange for one of our representatives to visit the site to discuss your requirements and confirm a suitable, safe gas meter location with you and/or your builder.
Our
builders pack
also features typical meter locations.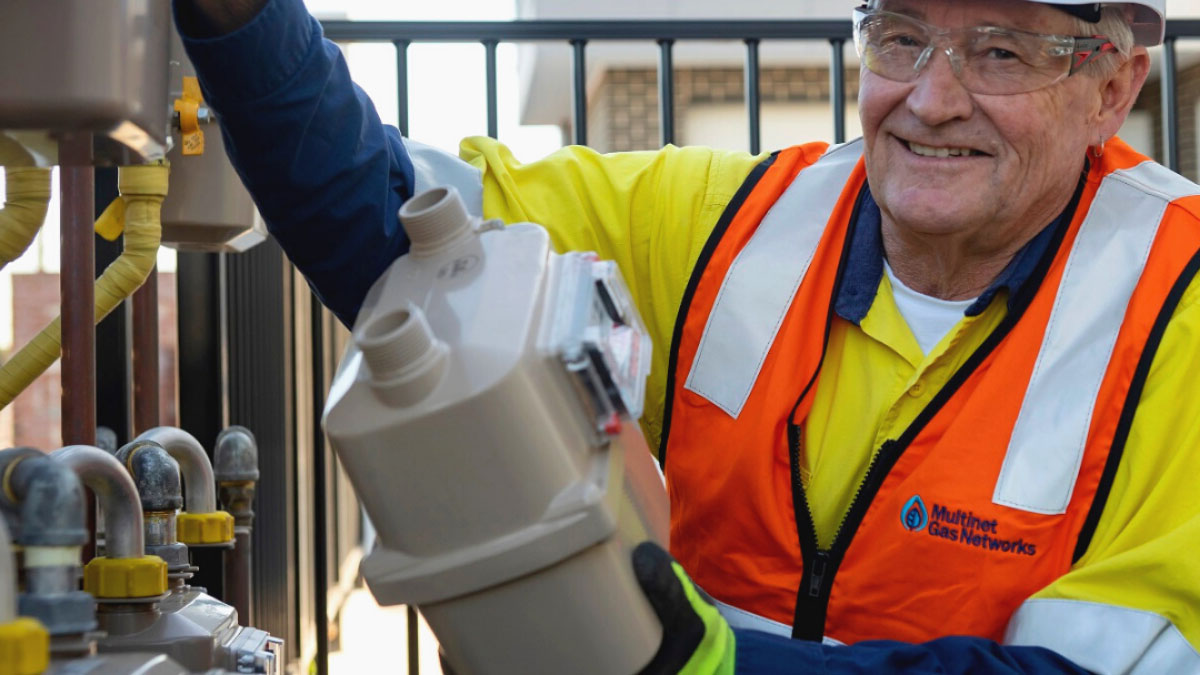 Step 7. Install the gas meter
Now it's time to have your gas meter installed to finish off the new connection. Your energy retailer will arrange this with you. The gas meter installation should be booked at least two business days in advance.
Step 8. Get your gas appliances installed
After we've installed your new meter, you can contact your licensed gas fitter to install your gas pipes and appliances.
Step 9. Enjoy natural gas in your new home
Whether it's for cooking, heating or hot water, you'll love your new home powered by gas. Read more about how gas appliances can save you money, reduce your carbon footprint, and give you greater reliability and quality.
Here at Multinet, we're also committed to transitioning our entire network to being 100% renewable by 2050 at the latest. This means the same exceptional reliability and safety record as our existing natural gas network, but with zero greenhouse gas emissions. Read more about the future of gas over on our AGN website.
Or contact us with any gas connection queries you may have.